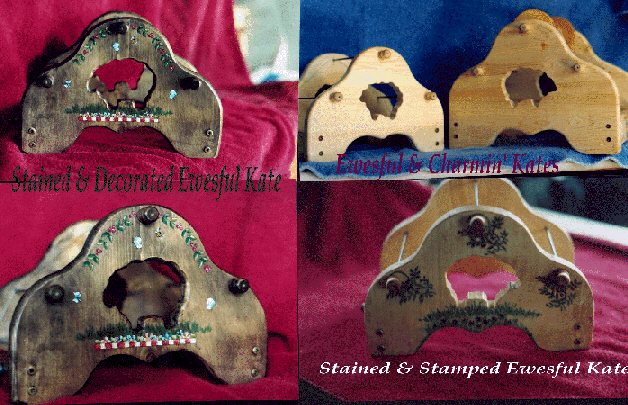 I spin on a Lendrum DT. The Lendrum is a wonderful wheel; but I didn't like the Kate.
The lazy Kates just aren't functional. I designed one for my wheel & the bobbins from other wheels also fit on it; the Ewesful Kate was born.
The bobbins are tensioned so the yarn all winds off evenly - at the same speed, so they don't wind backwards & get tangled.
The Ewesful Kate is made of Pine & unfinished - (so that it can be stained to match the finish on your wheel), but it can be stained for you at additional cost.
Charmin' Kate are for those of you, with Louet's or wheel with larger bobbins. (Named for my inspiring Daughter) It will accommodate bobbins up to 7 1/2" long & wider whorls. It is also tensioned, made in pine; just like the standard Ewesful Kate.